Giant cannabis plants found in garden in Taunton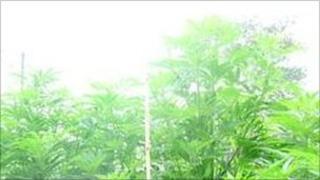 Police have found giant cannabis plants growing in a garden in Taunton.
Following a tip-off, they searched a house in Bridgwater Road and found 59 plants, all between six and eight feet tall (1.82m - 2.43m) in the garden.
A 62-year-old man was arrested at the property on suspicion of supplying controlled drugs and of possession with the intent to supply.
A further 60 seedlings and hydroponics equipment were also found. All the plants and equipment were seized.
The man has been released on bail until September pending further investigation and forensic testing.