Tribute to athlete Lewis Andrews who died in car crash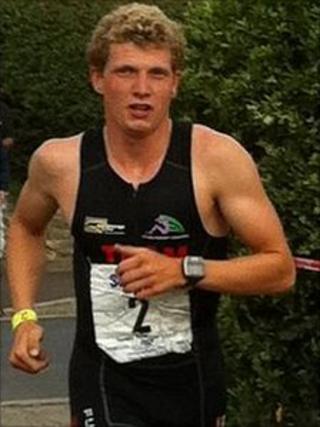 The family of a "sensational athlete" who died in a car crash in Wiltshire has paid tribute to him.
Lewis Andrews, 23, of Bulford, died after his silver Peugeot 307 left the A345 and collided with a tree near Amesbury on Sunday morning.
Mr Andrews had qualified to represent Britain in the Triathlon World Championships in Beijing in September.
He was on his way to collect a "beloved Boardman bike" for a time trial in the Woodford Valley when he died.
In a statement, his parents Collette Bradbury and Graham Andrews, and older sister Holly, said his sporting success had been achieved through "sheer guts and determination to win".
"Lewis needs to be recognised as an up-and-coming sports man, a sensational athlete who was never allowed to fulfil his massive potential," they said.
Class clown
Mr Andrews, who worked as a green keeper at High Post Golf Club, attended Shipton Bellinger Primary School and Stonehenge Secondary School in Amesbury, where he received the award of School Class Clown in his final yearbook.
His family said they had "lost the best son and the 'bestest bro' anyone could ever dream of having".
An area has been set up at the Five Rivers Leisure Centre in Salisbury, where flowers can be laid in memory of Mr Andrews.
The family has requested that floral tributes are not placed on the roadside where he died.