Wellington child migrant mother and son reunited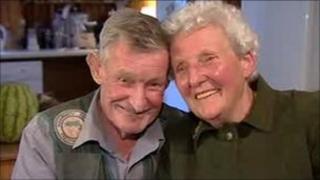 A woman from Somerset has been re-united with her son after more than 70 years.
Madge Covey, 88, from Wellington, was 17 in the 1940s when she had to give her baby up and put him into care.
When he turned 10, Tony Jones was sent to Australia as part of the government's controversial Child Migrant Programme for a "better life".
Mr Jones said: "It's just overwhelming. Awesome. It was just unbelievable. I didn't think I'd ever find her."
'I forgive mum'
Ms Covey said she agreed to send her son to Australia as she believed he would have a better life.
He became one of 130,000 children aged between three and 14 sent to former colonies including Canada and Australia between the 1920s and 1960s.
The Child Migrants Trust said many of the children sent abroad suffered abuse and were often wrongly told their parents were dead.
Mr Jones said during his time in Australia he often ran away before eventually leaving the country for New Zealand where he settled.
In February 2010 Gordon Brown, in his capacity as Prime Minister, made a public apology and said he was "truly sorry" for the "misguided" programme.
Mr Jones said: "I forgive mum, you've given me a life, I've found you and I want to spend a bit of time with you."
Ms Covey said: "Tears came, I cried. I know now that I'm not going to my grave not knowing."