Tour of Britain needs marshal volunteers in Wells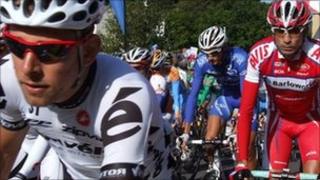 Organisers of this year's Tour of Britain cycle race are asking for volunteers to help in Wells.
Stage six, a 145km (90 mile) route between Taunton and Wells, is being held on 16 September and will end in England's smallest city at lunchtime.
People are needed to act as race marshals.
Somerset County Council ended its sponsorship of the race in May but organisers hope to find new sponsors so it can return to Somerset next year.
"You'll be involved in possibly the last opportunity to do this in a place like Wells," said city councillor Tony Robbins, local activity organiser.
"It's not too erroneous a sort of a task. Hopefully the weather will be good, so it'll be quite a nice day out."
The county has hosted two stages of the race each year in a five-year contract worth £775,000.
But despite attracting up to £10m in revenue, the council said it's decision to end the sponsorship was based on the fact that it would be inappropriate to fund the race while it was £350m in debt.
The Tour of Britain is a national cycle race taking in eight stages across the country and attracting an estimated one million spectators.