Bath and West Show's challenge to US cider makers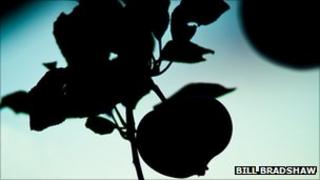 A photographer who judges cider entries at the Bath and West Show is travelling to America in a bid to encourage cider makers to compete at next year's show.
Over the course of 10 days Bill Bradshaw will meet cider producers in the Great Lakes and New England.
He said: "We normally only get a couple from Europe like France and Spain so it would be really good to get some more international action."
He hopes to learn more about US cider traditions, heritage and folklore.
'Johnny Appleseed'
Mr Bradshaw's itinerary includes visiting about 10 cider makers in the Great Lakes and Detroit as well as the Great Lakes Cider Festival.
"In Europe I don't think American cider is taken that seriously - we've got a much older heritage here and whilst they appreciate they're in a newer position, they're really keen to be on the map."
Although he says American cider is not widely linked with cider producing, it is part of the folklore and history.
"There's a character called Johnny Appleseed who went over with the first settlers and would apparently wander the land and scatter apple seeds - no-one knows whether he really existed but most school kids in America will know about him.
"And there was a strong link between a lot the settlers and ciders because it was the French, Germans and the English all of whom have a cider culture but I think a lot died out during prohibition."
'Wild yeasts'
Mr Bradshaw will be accompanied by writer, Pete Brown who has written several books on traditional beers.
"It's just seeing how other people enjoy drinking cider socially, when they drink it, how they drink it and the traditions that go with it - as we have Wassails and Apple Days here," said Mr Bradshaw.
Wassailing is an ancient Pagan tradition where a ceremony is carried out in mid-Winter where evil spirits are scared away and to protect the coming year's apple yield.
Apart from his role as an ambassador for the Bath and West show he hopes to build on his previous photography projects which tell the story of Somerset cider heritage.
"They have their own apple varieties, they've got their own wild yeasts and their own techniques although they won't have the same varieties as us in terms of traditional cider apples but they definitely have some.
"And because they're very passionate they will have their own stamp on their cider."