Olympic torch used by Somerset man to light house porch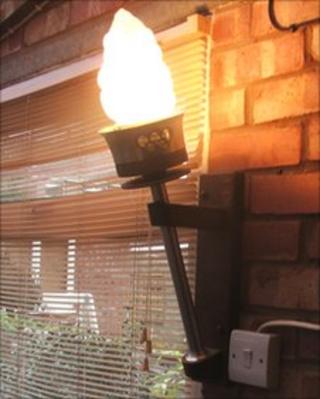 A 1948 Olympic torch that was carried through Somerset is now being used as a porch light by the torchbearer's son.
Paul Kneeshaw, 60, wired the antique into his Creech St Michael home after his father died and left it to him.
It was originally carried by Raymond Kneeshaw, then secretary of Taunton's Athletic Club, through Chard before the 1948 Olympic Games in London.
Mr Kneeshaw said people did not realise what it was until they were told, and were then "quite interested" in it.
Before the 1948 Olympics, torchbearers passed the flame on but were allowed to keep the actual torch.
Designed by Ralph Lavers, a fan of classical architecture, the 1948 torch was created to be inexpensive but well-crafted to travel across Europe ahead of the "Austerity Games".
Mr Kneeshaw senior adapted his 0.5m (18in) torch into a functioning light and installed it in the hallway of his house.
The family has no plans to sell it and Mr Kneeshaw junior said he would hand it on to his sons who "love it".