Mass motorbike ride to thank people in Wootton Bassett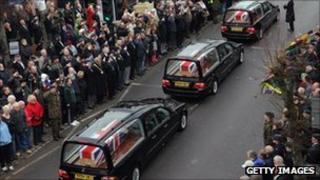 The bereaved parents of a Somerset rifleman who was killed in Afghanistan have planned a mass motorbike ride in Wootton Bassett to thank its residents.
Corporal Tom Gaden, 24, of First Battalion The Rifles regiment, was repatriated through the town in 2009.
The bodies of troops are now being flown into RAF Brize Norton, in Oxfordshire, since repatriations were moved from RAF Lyneham in Wiltshire.
The motorbike ride will take place on 1 October with 50 bikes taking part.
Cpl Gaden, from Taunton, L/Cpl Paul Upton from Cornwall and Rifleman Jamie Gunn, from south Wales, died when a bomb struck their Land Rover on 25 February 2009.
Previously a 500-strong motorbike ride paid tribute to the Cpl Tom Gaden, who was a keen motorcyclist, on the day of his funeral, 16 March 2009, in Taunton.
Friend of Cpl Gaden's family, Gordon Kemp, said: "What Judy [his mother] wants to do is say thank you as a mother to the people of Wootton Bassett."
"Unfortunately we are limiting it to 50 motorcyclists who are riding from Taunton but there are still places available."
During the ride, Judy and Nic Gaden will present the town's mayor with a quilted wall hanging as a token of their appreciation.
His parents have also designed a sew-on embroidered badge for motorcyclists to wear as a way of raising funds to the Tom Gaden Trust, set up to support his partner and children.