Plovers held in protective cage at a Somerset quarry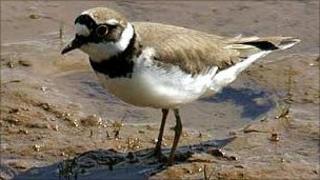 A special cage installed at a quarry in Somerset has helped protect rare birds during the breeding season.
The regionally rare little ringed plover had tried to nest at Torr Quarry near Frome for the past few years.
But, according to quarry owners Aggregate Industries, crows have been "picking off" both eggs and chicks.
This year "to give the birds a helping hand" the company installed a protective cage, allowing four chicks to be successfully hatched.
Simon Wiltshire, the company's biodiversity and restoration advisor said a local birdwatcher suggested the idea of "a special cage".
"Around 130 species of bird have been recorded around the quarry including little ringed plovers," he said.
"So the cage would have to have a big enough space for the plovers to get in and out, but not allow the much bigger crows in."
Working with the Royal Society for the Protection of Birds (RSPB) conservation officer Richard Archer, a "licence to disturb the birds" was obtained and the cage installed.
"The best bit was when we located the nest," said Mr Archer.
"The sitting bird scuttled off, then flew to a nearby rock watching us. We pegged in the cage on top of the nest and retreated quickly to watch.
"Within 15 minutes, the bird had returned. It ran round the cage several times, inspected it, found the gap we'd created in the cage mesh, entered and was back on the nest incubating."
Over the next few weeks the cage and nesting plovers were monitored.
"Crows were seen to try and get at the sitting plovers, but the cage did its job and four chicks successfully hatched," said Mr Wiltshire.
"We were thrilled and hope to find more nests next year."