Avon and Somerset Police make arrests in scrap metal raids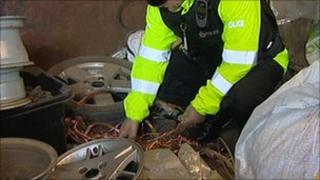 More than 20 people have been arrested during raids on 50 scrap metal yards by police targeting criminals who deal in stolen metal.
Over 300 Avon and Somerset officers took part, as well as sniffer dogs and financial investigators.
It was part of Operation Relentless, aimed at targeting criminals in the West.
Theft in metal costs the country more than £1bn every year.
'Intrusive approach'
The global rise in metal prices means a tonne of copper is currently worth over £5,000, with the same amount of lead fetching approximately £2,000.
Inspector Ray Hulin, who led the operation, said: "Any legitimate scrap dealers who actively refuse to deal with stolen metal, and who engage with local policing teams, have nothing to fear.
"We will continue to use an intrusive approach in dealing with the thieves and handlers who are making a lot of money at the cost and inconvenience of everyone else."
Billions 'at stake'
A police spokesman said the number of metal thefts in the Avon and Somerset force area was "considerably lower" than most other areas across the UK.
"Businesses are being affected when their broadband signals go down," said Inspector Mark West.
"Communities like schools and churches have lead taken off their roofs.
"It's affecting the taxpayer as well as manhole covers are being taken [and] road signs. There's billions of pounds at stake here."