Narrative verdict for teen who died after scaling pylon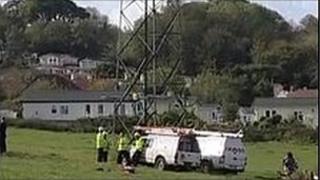 The mother of a man who died after climbing an electricity pylon in Weston has criticised a health trust for a "lack of adequate [security] measures".
David Hoskins, 19, suffered 60% burns from the 33,000-volt structure, after escaping from a psychiatric unit in October 2009.
The jury at Avon Coroner's Court returned a narrative verdict.
The Trust has since taken steps to improve security and said it was not criticised by the jury over the matter.
Witnesses at the time reported a "blue thunderbolt" and a buzzing noise.
Mr Hoskins had been sectioned under the Mental Health Act in September 2009.
The teenager was a patient at the Avon and Wiltshire Mental Health Partnership NHS Trust-run Long Fox Unit near Weston General Hospital.
'Amazing person'
"This has been a very traumatic time for my family and nothing we say or do can bring David back to us," Mrs Hoskins added.
"David was an amazing person to know and we will always be grateful for the colour that he brought to our lives.
"We are concerned about the lack of adequate measures in place to protect David while he was an inpatient at the Long Fox Unit and we feel our anxieties as a family for David's health were not taken seriously.
"In this case our gut instinct that something was wrong unfortunately turned out to be very right."
Mr Hoskins, who lived in Yatton, had a history of mental illness and had been diagnosed with bi-polar disorder when he was 17.
The jury at the court in in Flax Bourton, North Somerset, heard how he managed to escape the Long Fox Unit by climbing over a 3ft (82cm) high fence in the centre's gardens on the day of the incident.
He than ran to the field opposite Weston General Hospital and climbed 65ft (20 meters) up the tower.
He died six weeks later at Frenchay Hospital in Bristol from his injuries.
Security measures
The day before the incident Mrs Hoskins had contacted the ward where her son was staying, after becoming concerned for his welfare.
Staff told the inquest they did not feel there had been any change in Mr Hoskins' behaviour prior to his escape and that they had acted appropriately on the day of the incident.
Since his death a 9.8ft (3m) high anti-climb fence had been erected around the garden and increased security measures have been installed on the ward, the inquest was told.
"Our thoughts and condolences are with the family and friends of Mr Hoskins at this time," said a statement from the Avon and Wiltshire Mental Health Partnership NHS Trust.
"As the court has heard, the jury made no criticism of the trust, its staff or level of care."