Bath launches 'Boris Bike' rental scheme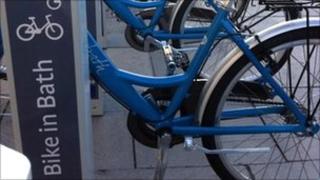 A new public bicycle hire scheme, similar to the "Boris Bikes" system in London, is being trialled in Bath.
The Bike in Bath scheme is making 58 bicycles available for short-term hire at four sites across the city centre.
Users can collect and return branded bicycles from docking stations at Orange Grove, Bath Spa Station, Green Park Station and the Holburne Museum.
The service is accessed using electronic cards available at the tourist information centre.
The Bike in Bath scheme is being operated by Bicincitta, which operates similar systems in towns and cities across Italy.
Despite the failure of a free bike hire scheme set up in Bristol in 2008, Paola Bellocchio, from Bicincitta, said she was confident Bike in Bath would work.
"Based on our Italian experience - where now we have nearly 60 services in towns and cities in Italy - it does work," she said.
"It is a public service, the first half an hour is free of charge and you can use it several times during the day and if you stay within a half hour it is always free.
"Based on our experience here [Italy] we are pretty confident it will work."
The bikes will be available 24 hours a day and hire costs vary from £1 for an hour to £35 for annual membership of the scheme.
Following a two-week trial, the new service is due to be launched later in the month.