Bishop of Taunton rededicates St John's Hospital chapel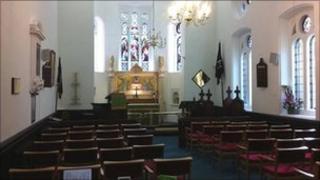 A Bath chapel dating to medieval times has been rededicated following restoration work.
Some £28,000 was spent on the work at St Michael's Within, the chapel for St John's Hospital, including replacing the pews with accessible seating.
Chief executive Jonathan O'Shea said the rededication established an exciting new era for the chapel.
Thursday's service was taken by the Bishop of Taunton, the Rt Reverend Peter Maurice.
St John's Hospital is a registered charity providing almshouse accommodation, community grants and individual financial support to deprived people in Bath.
The charity trust was founded in 1174 and has served the community for more than 800 years.
Its website says the charity's vision is to provide an improved quality of life through housing and support for older people, and through grant making, for others who are disadvantaged in some way.