Views sought for habitat plan on Steart Peninsula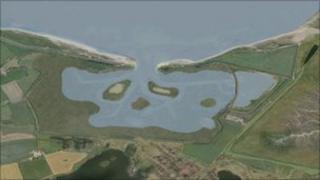 A second public consultation is to be held over plans to create a new wildlife habitat on the Steart Peninsula in Somerset.
Bristol Port Company wants to create the habitat to compensate for the area of land that will be used for a new container terminal at Avonmouth.
Previously concerns were raised about flood risk but the company has said this issue has been addressed.
The company aim to apply for planning permission for the habitat in October.
The aim is to create a network of creeks and islands for nesting birds as well as saltmarsh areas for livestock grazing.
Sue Turner, from the Bristol Port Company, said: "The plan is to take an area of shingle ridge which the Environment Agency are going to stop building up and instead of letting this whole area flood in a very uncontrolled manner we're going to put in new flood defences.
"This will create an intertidal habitat for birds and new flood defences to keep people safe in their homes."
The flood defences will protect the nearby villages of Stockland Bristol, Otterhampton and Combwich.
Permission for the new container port has also been secured and once it is built it will be able to accommodate large deep-sea ships that cannot enter the existing port.
The drop-in session will be held at Stockland Bristol Sports and Social Club from 14:00 to 19:00BST on Thursday.