Somerset ex-councillors given Honorary Alderman status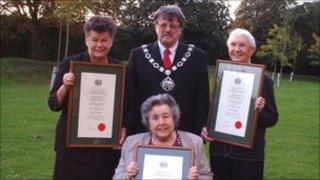 Three ex-councillors in Somerset have been awarded Honorary Alderman exceptional service status.
South Somerset District Council confirmed the status to ex-councillors Jill Beale, Ruth Kendall and Pat Martin in recognition of their community work.
Council chairman, councillor Mike Best said it was "a way of saying thank you and of showing respect for years and years of service to our residents".
They received certificates and flowers at a special presentation.
They were nominated for the honorary status by party leaders in the past few months and were confirmed by a panel of current councillors at the meeting.
Mr Best said: "We were all very proud to grant Honorary Aldermen status to them, as they deserve real recognition.
"Being a councillor is not an easy role and Pat, Ruth and Jill have also given much time to other organisations such as sports centres and partnerships that have made huge differences to our area in the last 25 years."