Banksy influence blamed by mayor for spate of graffiti in Taunton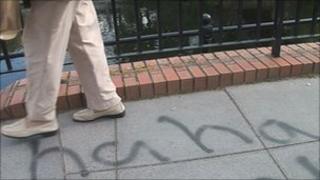 The mayor of a Somerset town has blamed the influence of street artist Banksy after graffiti vandals defaced a war memorial, houses, bins and a bridge.
Police said a large amount of graffiti had appeared in Taunton over recent weeks and that they had so far made two arrests in the ongoing investigation.
Mayor Steve Brooks said: "I think Banksy's got a lot to answer for.
"He's done some brilliant pictures in Bristol but people are taking after him and think they can get away with it."
War memorial vandalised
Paint remains on several town walls and houses, litter bins, a bridge and lamp posts.
The war memorial in the town centre, which has since been cleaned, was also vandalised.
David Brixey, from the Royal British Legion, said: "I'm saddened that people don't have the respect, even if they don't believe in the armed services in any way, shape or form, that they would pay this much disrespect to the fallen who have paid the ultimate price."
Two men, aged 19 and 17, were arrested last week on suspicion of criminal damage. Both were released on bail pending further inquiries.
Detectives believe that at least one other person is also responsible for the spate of graffiti.
Anyone with information is asked to contact Avon and Somerset Police.