'Squatters' cause anger after taking over empty Bath shops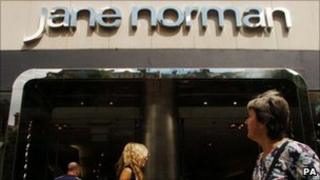 A number of "squatters" have taken over an empty shop in Bath and are running their own business from it.
The former Jane Norman store in Union Street has been covered with advertising posters by the group, which is selling handbags and accessories.
BBC Bristol reporter Nigel Dando said a note on a window said the new business was trading as Sunshine Leisure Plc.
Another group selling goods was evicted from the old Jessops branch in Southgate Street on 16 September.
Mr Dando added that the landlord of the former women's fashion retailer, which went into administration in June, is taking legal action to have the current occupants of the store evicted.
Detrimental effect
Mike McElhinney, a specialist in retail property at Jones Lang LaSalle in Bath, said the group was part of an "organised business from London", which goes around the country looking to "spot an opportunity."
"I think in all likelihood they had a friendly locksmith from London who came along with them," he said.
"[They] went to the building - or buildings - shortly ahead of them, changed the locks, and then walked away leaving the door open and the keys in the door.
"The squatters then wander along, open the door and then in they go and when the police come they say the found it open.
"Of course they pay no rates, they pay no rent, they pay no VAT, they pay no National Insurance.
"They are taking business straight out of the mouths of other shops in the area that are paying everything."
Civil matter
Joseph Blake from Squatters Action for Secure Homes (Squash), an organisation offering support for squatters, said there were currently 725,000 empty properties across the UK "lying abandoned and going derelict."
"When homeless people have nowhere else to go, [this is] often the last chance for them to get a roof over their heads and I think that's definitely ok.
"Squatters often come in and actually do them up, turning them back into working, functioning buildings.
"I wouldn't back squatters going in and taking something that the owner's got a use for."
An Avon and Somerset Police spokesman said the issue was a civil matter which would be dealt with by the county courts.
He added that the police would only get involved, if needed, to keep the peace if and when the group was evicted.