Yeovil shops promote local trade with discount scheme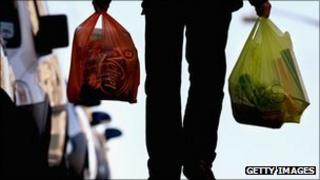 Independent shops in Yeovil have joined together to try and encourage more people to shop there.
The Chamber of Trade and Commerce initiative will sees stores offering deals including discount vouchers.
"It is difficult. A lot of businesses are worried about the double-dip [recession]," said vice-president Jason Livingstone.
"If you're not going up in business, you're going down. So it's a difficult and worrying time."
Florist June Bird, who owns Andrea's Flowers in Yeovil, said more and more people were shopping in out-of-town supermarkets, rather than on the high street.
"Takings are down about 75% on what they were three or four years ago," she said.
"It is a struggle. We can't compete with the supermarkets on price. People want to pay a small amount and have good quality flowers, and it doesn't work."
'Support local shops'
The initiative comes as a national pressure group warned that 10,000 independent stores could close across the UK this year.
"[Nationally] over 90% of the working population work for a small business," said Ian Dyer, chair of the Somerset branch of the Federation of Small Businesses.
"The impact of losing small traders generally can have a huge social impact on a community."
The organisation is now encouraging people to spend at least £10 a week in Somerset's independent shops.
"Families think nothing of spending £50 or £100 in a supermarket - how often do we do that in a local shop?" added Mr Dyer.
"We aren't asking for a lot. Everyone says they don't want to lose the local shops and you can't have it both ways.
"If you want local shops, you've got to support them."