Glastonbury Festival: Christopher Shale died of natural causes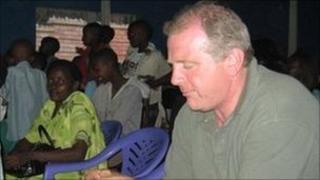 A senior Conservative and friend of David Cameron who was found dead in a toilet at the Glastonbury Festival died of natural causes, a coroner has ruled.
Christopher Shale, 56, chairman of West Oxfordshire Conservative Association, was found dead on 26 June.
The inquest into the death of the prime minister's constituency chairman heard he was missing on the site for about 18 hours before he was found.
East Somerset coroner Tony Williams ruled he died from heart disease.
The inquest at Wells Town Hall heard Mr Shale was found dead in a backstage VIP area near the Other Stage.
'Excessive workload'
Mr Cameron, who is the MP for Witney in Oxfordshire, said he was "devastated" by Mr Shale's death, describing him as a "rock".
The inquest heard that Mr Shale was overweight and asthmatic.
Pathologist Basil Purdue said his weight put "an excessive workload" on his heart.
On June 24, the day before he went missing, Mr Shale spoke of feeling unwell. The next day he complained of shortness of breath, which he put down to his asthma.
When he failed to turn up for lunch with friends and family or make contact, his wife Nikki reported him missing.
'Inaccurate speculation'
The next morning a friend of Mr Shale retraced his steps and came across a locked toilet.
When he knocked and there was no response, he broke in and found Mr Shale dead.
Following Tuesday's hearing, Mrs Shale paid tribute to her husband and hit out at "inaccurate speculation" regarding his death.
She said: "It was always obvious to us, and confirmed very soon afterwards, that my husband, my darling husband, died of natural causes.
"It has been a cause of great regret to our children, to Chris's family and all our friends, that so much inaccurate speculation has appeared in the media with regard to the circumstances of his death."