Somerset charity creates oil savings plan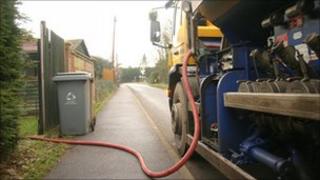 A Somerset charity has said it hopes to tackle fuel poverty in rural areas by lowering domestic heating oil prices through a bulk-buying project.
The Community Council for Somerset (CSC) is taking up the idea after saying it succeeded in Oxfordshire.
Each person has to order at least 500 litres and the charity negotiates the price on behalf of the group members.
The charity said it hoped at least 800 people would join the project over the next 12 months.
According to data from the Centre for Sustainable Energy, about 60% of people in Somerset live off mains gas, which equates to about 59,000 homes.
Most of these homes are in the west of the county such as Porlock on Exmoor, Stogumber in the Quantock Hills.
Chief executive of CSC, Katherine Armstrong said: "The key to making this scheme work will be having local people who will collate the scheme members' oil orders once a month and pass the information to us."
The charity believes carbon emissions of oil tankers can be reduced by making several deliveries to one village rather than by making several individual deliveries.