Route for Somerset pylons to be revealed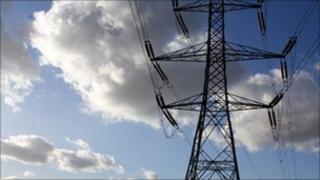 The preferred route for 37 miles (60km) of pylons through Somerset is to be announced by National Grid.
The firm wants to place the power lines between Hinkley Point and Avonmouth in Bristol but campaigners are calling for them to be installed underground.
Defence Secretary and North Somerset MP Liam Fox and Wells MP Tessa Munt have both opposed the scheme.
National Grid said the cost of burying the cables was prohibitively high and was considering two overhead routes.
The pylons would link a proposed power station at Hinkley Point with Bristol and could be built by 2016.
One possible route would be alongside the M5 while the second would go past Wedmore then between Weston-super-Mare and the Mendips and to the south-east of Nailsea.
The plans are due to be announced at a meeting in Bridgwater on Thursday.
The firm would need to apply for permission to the Infrastructure Planning Commission before any work can be carried out.