Hinkley Point protesters hold Bridgwater march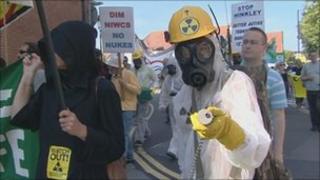 Campaigners against plans for a new nuclear power station at Hinkley Point have held a march and rally in Bridgwater.
The Stop Hinkley campaign group wants to stop preparation work being carried out on the Somerset site.
The nuclear power station has yet to be granted permission from the government, but preparatory works have started.
EDF Energy says work to clear the land will bring 500 jobs to the area and bring the plant's completion forward.
'Dire straits'
Mike Harrison, from EDF Energy, said of the protest: "Obviously there's a little frustration because it means we've got to take out extra measures but I think we've got to respect people's rights to have their views and opinions.
"There are a lot of people in the local area who work in the power station, there's a lot of positive public opinion for what we're doing."
Some locals say the area needs the jobs.
One resident, who did not want to be named, said: "The town needs it, the town's a ghost town. It needs people in the community to start working.
"A lot of people in this town don't work at all. They're in dire straits."
Campaigners set up camp near Nether Stowey on Sunday and are planning to blockade the entrance to the Hinkley Point site on Monday morning in a further protest.