Russian Olympians to train in Somerset school pool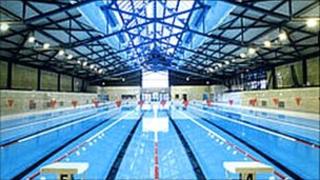 A 50m swimming pool at a school in Somerset has been selected as the training ground for the Russian Olympic swimming team.
The 60-strong squad has chosen to use Millfield School, near Street, as their preparation camp in the run-up to the Olympic Games in London next summer.
The squad is expected to include Nikita Lobinstev, a medal contender in the freestyle events and Yulia Efimova.
The team will swim up to three times a day during its 11 day stay.
Andrei Vorontsov, the team's senior performance director, said they had chosen Millfield "because of its campus facilities and general atmosphere".
"It's very important for the team to prepare both physically and mentally for the Games and Millfield is an excellent place for us," he said.
Headmaster Craig Considine said they were "proud to host the Russian swimming team ahead of the Games next summer".
"Millfield has always had a strong connection with the Olympics and we're delighted to be able to play a part in London 2012 legacy."
Millfield is one of the largest independent, co-educational day and boarding schools within the UK.