Frome council staff lay flagstones over 'eyesore'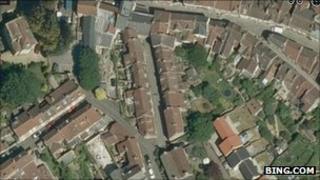 Town councillors in Somerset have re-laid paving stones after they said the county council's original job was an "eyesore".
Five members at Frome Town Council got "off our butts" and replaced asphalt laid by Somerset County Council in Sheppards Barton.
Without asking permission they re-laid 17 flagstones which were given to them.
Somerset County Council which spent less than £50 laying the asphalt said it was happy with the work.
'Job well done'
Mel Usher from Frome Town Council said: "It was an eyesore in one of the most sensitive parts of town and we thought the county was under a lot of pressure budget-wise, but covering ancient flagstones with asphalt was just probably not really good enough.
"We just thought five of us would take a day off work, get out there, get off our butts for once, instead of talking hot air, and actually dig up the tarmac and replace it.
"The county council has taken it in their stride and inspectors have been round looked at the work and said yes it's fine. I think it's a job well done."
The county council said its policy was to replace defective paving with asphalt for financial and durability reasons.
County councillor Harvey Siggs said: "I'm very keen that Mel and his gang are happy to take it over because if the work is the right quality then that's great.
"But in certain, areas, especially where lorries keep bumping into pavements, you can't go on replacing paving stones and flagstones at a huge cost."