North American snails found at Bath's Roman baths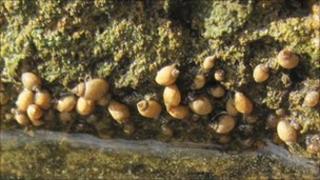 A species of freshwater snail from North America has been found in the water at Bath's Roman baths.
The molluscs - known as Physella acuta - survive by eating algae in the water. They are removed by cleaners every eight weeks, but keep returning.
Staff think they arrived on plants imported when carp were kept there.
Manager Stephen Clews said: "If you go back 100 years or so, the baths had water lilies growing in them and they may have come in on the roots."
The snails survive the warmth of the water by congregating at the edges of the baths where it is cooler.
They can be seen crawling on the top step of the Great Bath feeding on the blue-green algae (Cyanobacteria) which give the water its green colour.
The species is thought to have originated in the Carolinas in the US and in the last 200 years they have spread to other continents.
Water lilies
Photographs of the Great Bath in the 1890s show water lilies in the water.
If these were a warm-water species introduced from North America, as Mr Clews suggests, the snails could have been on those plants.
He said: "It could have been an explanation for it, as that is where you would find these plants and you would only need the eggs of the snails to be carried."
Mr Clews believes the snails have benefited from the baths' unique properties.
He said: "It's a special environment. Bath is the only place in Britain to have hot springs and we have three of them. The microbiology of the baths is unique and this is why these particular snails have thrived here."