Six-foot high wasp nest found at Somerset garden centre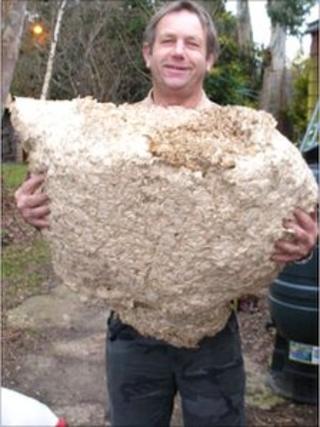 A wasp nest "about 6ft in length" has been found at a Somerset garden centre.
The "monster" nest was first spotted by manager Alan Avery, at the Avery Garden Centre in Taunton, in April.
He decided not to have the nest removed and over the next six months it rapidly grew inside the roof insulation of a shed.
Mr Avery said despite working in a storage shed with "tens of thousands of wasps humming and buzzing" over his head, he was not stung once.
He said: "If we don't bother them, they don't bother us.
"Although I did have an exit plan - behind the shed there's a river and if anything kicked off I was going to jump in the river."
The nest was above shelves stacked with insecticides and, according to Mr Avery, was "actually bigger than it looks in the picture".
"That's just the part of the nest that was on the outside of the building - and that was about 4ft across," he said.
"But the wasps got inside the insulation of the roof so I'd say the nest was actually about 6ft in length.
"And it was multi-coloured because the wasps had been gnawing away at the fence panels here - and the panels are all different colours."
The 4ft section of the wasp nest has been donated to a local school.
Last year a 6ft by 5ft (1.8m by 1.5m) nest which housed a total of about 500,000 wasps was found in the attic of a Southampton pub.
The nest was 15 times larger than the UK average and was verified by Oxford University experts as Britain's biggest ever nest.