Parked cars block Burnham-on-Sea hovercraft rescue team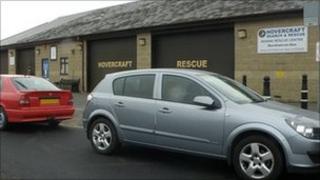 A hovercraft rescue team has claimed that missing double yellow lines outside its station may delay launches.
Burnham-On-Sea Area Rescue Boat (BARB) said "vital minutes could be wasted" if vehicles were parked in front of the coastguard and hovercraft stations.
After road surfacing in September the council failed to re-paint the yellow lines and people have been parking outside.
Somerset County Council said the mistake was due to "human error".
BARB said motorists had been parking vehicles where the double-yellow lines were painted and wandering off - potentially preventing the life-saving Coastguard trucks and hovercrafts from leaving.
'Urgent matter'
Mike Lowe, from BARB, said: "It is potentially serious because vital seconds or minutes could be lost by our crews having to find motorists to move their vehicles.
"During our most recent call-out last week one of the crew had to politely ask a driver to move his car as the hovercraft was about to be taken out of the station to reach an incident.
"While we're grateful to the County Council for resurfacing the road, the double yellow lines need to be restored as quickly as possible."
Mr Lowe said BARB had reported the issue to the council last week as an "urgent matter", but any work was yet to be done.
Councillor Harvey Siggs said: "We call on drivers to use their commonsense. Lives should never be put at risk unnecessarily."