Toddler Lucas Wellstead 'died after Weston Hospital discharge'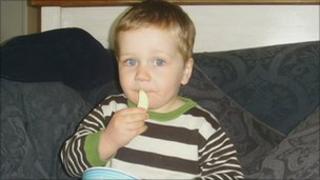 A two-year-old boy from Somerset died from septicaemia and pneumonia the morning after being sent home from hospital, an inquest has heard.
Lucas Wellstead, of Weston-super-Mare, was sent to Weston General Hospital on 20 January after his GP noticed a meningitis-type rash on his face.
However, the inquest heard hospital doctors diagnosed Lucas as having croup, a minor viral infection.
The inquest at Flax Bourton Coroner's Court was adjourned until Wednesday.
The hearing was told how a blood test taken from Lucas at the hospital's Seashore Centre had ruled out meningitis.
Despite tests showing he had a high temperature, along with abnormal respiratory and heart rate readings, the inquest heard, he was sent home.
The next morning, Lucas was found dead on his bedroom floor by his father John Wellstead.
Despite attempts by Mr Wellstead and Lucas's mother, Sian Eggins, to resuscitate him, Lucas could not be revived.