Stonemason wins gold medal in WorldSkills 2011 event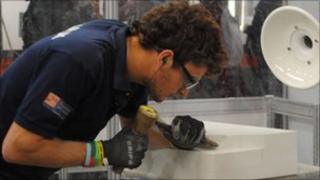 A stonemason from Somerset has won a joint gold medal at an international trade skills competition in London.
Chris Berridge, 22, works at a quarry in Ham Hill, near Yeovil, and studied stonemasonry at City of Bath College.
He said: "It was a tough four days - it was a lot of hard work and took a lot of concentration but I did still enjoy it."
The second gold medal in the WorldSkills 2011 competition was awarded to Michael Esnault from France.
'Really honoured'
During the event, Mr Berridge spent four days creating templates from a set of drawings from which he had to carve three stone blocks to within a one millimetre tolerance of the templates.
On the blocks he had to carve a variety of geometric moulded designs used to decorate archways and doors, as well as a replica facade of Big Ben.
Points are taken off the score if the carving does not match the template to within one millimetre.
"The Frenchman scored 527 and I scored 526," Mr Berridge said.
"Over the whole project I lost one or two marks on my millimetres, the other marks I lost was from subjective marks where the judges look at your piece and give you marks out of 10."
About 1,000 people - all aged 23 or under - took part in the four-day skills event at the ExCel centre in east London and competed across 47 trades.
Overall, Team UK came fifth in the medals table with four golds, two silvers, six bronze awards and 12 Medallions for Excellence.
"To be recognised as one of the best young stonemasons in the world is great," Mr Berridge said.
"I was really honoured to just be included in Team UK and get the chance to take part in the competition but to come away with gold is incredible."