'Inexperience' led to fatal balloon crash in Somerset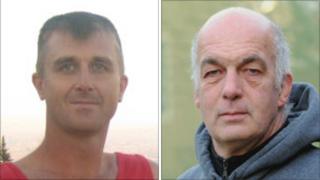 Inexperience and a shortage of oxygen at high-altitude possibly caused a fatal hot-air balloon crash, air accident investigators have found.
Pilot Lee Pibworth, 42, and Allan Burnett, 55, died when their balloon came down in Midsomer Norton, Somerset.
The Air Accidents Investigations Branch (AAIB) said the lack of oxygen at altitude might have affected the pair's judgement as they tried to descend.
Mr Pibworth died on impact and a subsequent fire killed Mr Burnett.
Mr Pibworth, a pilot, had been trying to reach an altitude of more than 19,700ft (6,000m), one of the criteria needed for a British Balloon and Airship Club (BBAC) gold medal.
The pair set off from their launch site at Chelwood, near Bristol on 1 January this year, but the balloon's rate of climb exceeded the recommended speed of 1,100ft (335m) per minute.
Possible unconsciousness
At 21,780ft (6,639m), ground control heard from Mr Burnett who told them they were going to start their descent.
Minutes later the balloon crashed, although the investigation showed there was no sign of any technical fault or structural failure.
The AAIB report stated the crash was down to "a combination of a mishandled parachute valve (which allows the controlled release of hot air), inexperience of lock tops, [and] inexperience with a large balloon at high rates of ascent".
The report also said the high altitude could have led to "degraded human performance due to some level of hypoxia (lack of oxygen in the blood) and pressure to descend as the approved flight level (of 21,000ft) was about to be breached".
"However, it was not possible to determine which factors were most applicable in this accident," the AAIB added.
The hypoxia was likely to have caused deteriorating performance and subsequent unconsciousness in the pair, the report said.
They would also have been exposed to an outside air temperature of -30C at peak altitude.
As a result of the accident the AAIB has said the BBAC will be producing information for high-altitude flights.