Somerset collector squirrels away 10 million acorns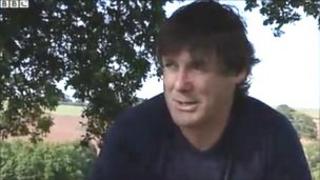 A professional acorn picker from Somerset is thought to have collected his 10 millionth acorn after 20 years.
David Bendon, 57, from Williton, collects acorns by hand each autumn on the Nettlecombe Estate in Exmoor.
The acorns are harvested from trees, which have been selected for their size and health, and then sold to nurseries.
Mr Bendon said on cold, wet days it was "pretty horrible" but "one day these small acorns will be big magnificent oaks and what a legacy to leave".
"I just do it literally squirrel-fashion. So pretty much I get down like a squirrel, grovel around and collect acorns," he said.
"There are, on average, about 200 acorns to a kilo - and so I've been able to calculate that I am very close to the 10 million mark."
Mr Bendon said Nettlecombe oak trees were "famous throughout the country" and it was believed the ships which defeated the Spanish Armada were built from Nettlecombe oak.