Hope for new cancer support centre in Taunton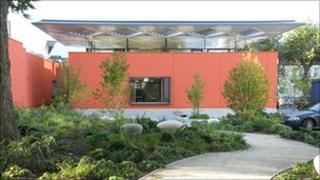 A cancer charity has announced plans to build a new support centre in Somerset.
Maggie's aim is to offer emotional and psychological support to cancer patients and their families.
If built, the facility would be located at Musgrove Park Hospital in Taunton next to the existing cancer unit, the Beacon Centre, on Wellington Road.
Taunton Deane Borough Council supports the plans in principle, but a formal decision has not yet been made.
There are currently 15 Maggie's Centres across the UK which are in operation or development.
'Parking issues'
The director of planning at Musgrove Park Hospital, David Allwright, said: "They [Maggie's] work very closely to NHS units and are usually on the same as a hospital and that's where one service can support the other very closely.
"The reason why Maggie's works with the NHS and St Margaret Hospice as well, is that it doesn't compete, so there are three working in partnership for the best range of services."
St Margaret's Hospice is a Somerset-based charity which offers palliative care for patients, not just those suffering from cancer.
Musgrove Park Hospital has been working with the borough council to explore the proposal which involves using hospital grounds and a small section of Galmington Playing Fields land.
A spokesperson from the council said: "They [Community Scrutiny Committee] made the proviso that careful consideration should be given to local parking issues and providing access to the new centre exclusively through the hospital grounds.
"The Scrutiny Committee do not have authority to decide what happens next but their recommendation now goes to the Council Executive who meet on 16 November."
The hospital and charity expect fundraising to take a couple of years to raise up to £3m to build the centre.