Somerset street blocked by wedged lorry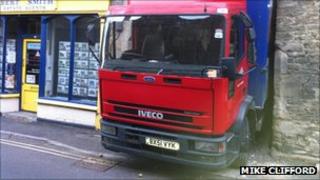 A lorry caused the 24-hour closure of a high street in a Somerset town after it became wedged between two walls.
The driver followed a route which took him through St Catherine's Hill, a narrow high-walled street in Bruton.
It became stuck as it emerged out of the street - forcing police to clear the high street.
Local resident Mike Clifford said: "It had to be left there overnight as they did try to move it but it started to bring the walls down."