Anti-monarchist MEP Graham Watson is knighted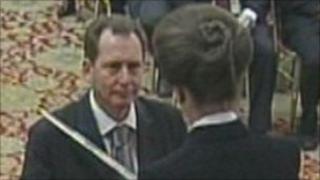 A South West MEP who accepted a knighthood despite his anti-monarchist views has been formally honoured.
South West England and Gibraltar Liberal Democrat MEP Graham Watson was made a knight in the Queen's Birthday Honours.
The politician, from Langport in Somerset, is a supporter of republican campaigner group Republic.
Speaking after the ceremony at Windsor Castle, he said he was "very proud" to be there to represent his constituency.
Sir Graham said he thought his knighthood was in recognition of his leadership of the Lib Dem trans-national group in the European Parliament and for his work introducing the European Arrest Warrant.
'Just baubles'
"I'm very pleased that the work which many people contributed to was recognised in this way," he said.
He received his knighthood from the Princess Royal in a formal investiture ceremony.
Sir Graham said that despite being a republican who believes the Queen should be succeeded by a President, he saw the knighthood as "an honour".
"I'm not the first republican to receive a knighthood and I won't be the last," he said.
"I take the view that you are honoured for your contribution to society, rather than anything you have done for the monarchy."
Speaking before the ceremony, UKIP member and fellow MEP the Earl of Dartmouth said the knighthood underlined all that was "wrong with the political end of the honours system".
"It is just baubles going to establishment politicians, irrespective of what they stand for," he said.