RNAS Yeovilton's 'love' for outgoing Sea Kings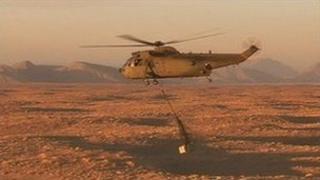 After more than 40 years' service, the naval air station at Yeovilton in Somerset is preparing to say goodbye to its fleet of Sea King helicopters.
As part of the Ministry of Defence's Strategic Defence and Security Review it will be replaced by the more powerful Merlin helicopter.
The Sea King Mk4 model is a variant of an aircraft that has been in use by the British military since 1969.
It has been a regular sight above the Somerset skies since the early 1970s.
As RNAS Yeovilton winds down its fleet of 28 Sea Kings no-one, it seems, has a bad word to say about them.
Cdr Jol Woodard, of 845 Squadron, said despite being old, the helicopter was well-engineered.
"She's heavier now than when she came into service and we're being required to carry heavier loads further distances.
"So therefore, very sadly, it's time to move on," he said.
Ian Williamson, the editor of Helicopter Monthly magazine, agreed.
"There comes a time when there is only so much you can actually do to that frame," he said.
"It's sad, the Sea King is a fantastic helicopter which has served both the military and civilians well," he said.
'Special aircraft'
But is it an aircraft you can fall in love with?
Pilot Lt "Butch" Cassidy believes so.
"It's such a special aircraft which has been around for so long and kept us going through many hard times," he said.
"Every time I come out to the cab I rub its nose before I get in it because it's so important to me that she keeps me alive and I try and keep her alive as well."
The aircraft have seen much action during their time in service and are lovingly maintained by engineers at the Somerset base.
Retired pilot Commodore Simon Thornewill said his Sea King was shot at and hit by Argentinian fighters during the Falklands War.
"The same aircraft, I know, has saved the lives of three [different] crews: our lives in the Falklands, subsequently in Bosnia with Capt Jonathan Pentreath, and then in Afghanistan where it had a large hole blown in the side.
"It's [being repaired and] coming back into service in December," he added.
The Sea Kings first flew in 1959, and within 10 years they had replaced the Westland Wessex as the Royal Navy's anti-submarine helicopter of choice.
Over the next 40 years they have been regularly upgraded and used for a variety of purposes such as troop transport, search and rescue, early warning, as well as anti-submarine search and attack, in conflicts such as the Falklands War, the Bosnian Conflict, and the invasion of Iraq in 2003.
The Mk4 model Sea Kings have most recently been flown by the 845 and 846 Air Squadrons from RNAS Yeovilton in Afghanistan since 2007, but will now start returning home for the last time.
The helicopter, which first saw active service in the Falklands, will be phased out over the next five years.
The helicopters are often associated with search-and-rescue operations, with the aircraft playing a key role in locating missing people both on land and at sea.
RNAS Yeovilton is home to Royal Navy (RN) Lynx Helicopters and the RN Commando Helicopter Force.
Its website says the Somerset base operates more than 100 aircraft in four different categories and is manned by about 4,300 personnel, service and civilian, including MoD employees and permanent contractors.