Caroline Meeking guilty of husband's car row killing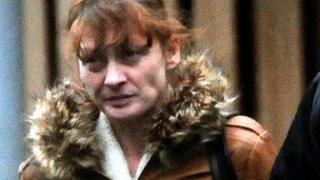 A Somerset woman has been found guilty of killing her husband in a crash which was caused when she pulled on the car's handbrake during a drunken row.
Caroline Meeking, 45, and husband Alan, 49, from Ilminster, had spent the day drinking in Bridport on 30 August before driving back to Somerset.
She denied a charge of manslaughter but it took the jury at Bristol Crown Court three hours to find her guilty.
Meeking was bailed before a sentencing hearing which is due on 6 January.
During the two-day trial the jury heard that the couple had between them drunk two bottles of rose wine and later had four or five pints of lager each.
Blood tests carried out afterwards found that Mr Meeking had a blood alcohol level of 168mg in 100ml of blood. The legal limit is 80mg per 100ml of blood.
'Ruined our lives'
Meeking had told the jury that an argument began after they took a wrong turn at a roundabout and it had escalated from there.
"I thought if I put the handbrake on it would slow the car down and I could get out. He could then go off and do whatever he wanted to do," she said earlier.
Instead the couple's silver Ford Escort was sent into a spin and collided side-on with a car coming in the opposite direction. Mr Meeking was declared dead at the scene.
Judge Neil Ford QC told Meeking: "The fact I am granting you bail is no indication of the sentence that you will receive.
"You must prepare yourself for all options of sentencing... a custodial sentence may be inevitable in this case."
Speaking outside court, Mr Meeking's son Dean, 23, said: "It's ruined all of our lives.
"It's been a hard year for us all, I think, and we've all come together and are happy with the result.
"Hopefully now we can move on a little bit."