Bridgwater Carnival to move dates to boost donations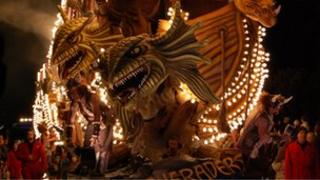 The largest carnival in Somerset is to be held on a Friday for the last time as organisers try to boost its popularity.
Bridgwater Carnival used to be staged on the Thursday closest to 5 November but moved to a Friday in 2001.
From next year it will be held on a Saturday.
Carnival organisers said the decision had been taken to try to stem the fall in charity donations, which hit a 10-year low last year.
Children's Carnival
Bridgwater Carnival press officer Dave Stokes said: "We do get loads of phone calls from people all over the country, and when we say it's a on a Friday we all get loads of comments coming back to us saying we can't get time off out of a weekday or take our children out of school.
"By changing it to a Saturday so they get into town earlier, hopefully that will boost collections as well."
Last year Bridgwater Carnival raised about £21,000 for charity, the lowest sum since 2000.
The event's first Children's Carnival is being staged this year. It will involve pupils from local schools taking part in a procession ahead of the main event, which starts at 19:00 GMT on Friday.
The change in dates from 2012 will move back North Petherton Carnival from its usual Saturday spot to the following Saturday.
Traditionally the Weston Carnival marked the end of the carnival season in Somerset but from next year it will be Glastonbury.