Children in Need helps Somerset Down's Syndrome charity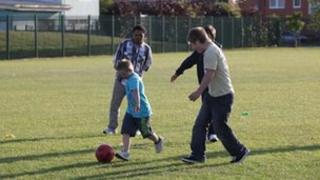 A charity supporting teenagers with Down's Syndrome has expanded its youth club provision in Somerset.
Ups and Downs Southwest is one of 12 charities in the county to benefit from Children in Need funding.
The project helps 10-18 year olds develop their social skills and meet their peers with the same condition.
With £8,000 funding the charity has been able to extend its youth clubs, from its first in Bridgwater to a further two in Frome and Yeovil.
'Very supportive'
Founder, and chief executive officer, Wendy Hellowell, said: "The vast majority of our kids are going to mainstream schools and their friendships there are great, they're very supportive.
"However, out of school, as they get to that age, and later teenage years, their mainstream friendships start to fall by the wayside, they're off doing things that our kids can't do without supervision.
"Even though we're very pro-inclusion, we wanted to set up a youth club just for them so they could be who they are, at the level they are and they don't have to worry."
Twelve charities across Somerset and Bath received £396,000 from Children in Need over the past year with money raised in the 2010 appeal.
BBC Local Radio is hosting 22 special screenings of Grease in aid of Children in Need, at Cineworld cinemas across England on Tuesday 15th November. Tickets are £6, with £5 going to Children in Need. More details here.