Bridgwater river wall damaged in flood 'will collapse'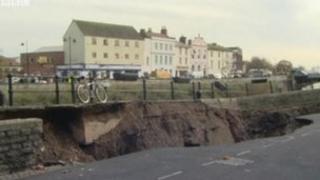 A riverside wall in Bridgwater damaged in a flood is still moving and will collapse, officials have said.
The partially collapsed wall at West Quay is said to be moving at 15mm a day although it is still performing a role protecting the quay from river water.
Large cracks appeared on Friday after local drainage failed to deal with 20mm of rain that fell in an hour.
A council spokesperson said it would be difficult to find a long-term solution until the wall had collapsed entirely.
Concrete has been sprayed into the hole behind the wall to stabilise the material under the road surface and protect it from further erosion.
Nineteen properties were evacuated on Friday and residents told that the worst case scenario was a possible delay of six months before being allowed to return home.
Dave Swann, 44, said he was "devastated" at the thought of being away from home for Christmas.
'Flooding possible'
Higher tides have been forecast for later in the week but water engineers do not think these pose any further flood risk.
BBC weatherman Ian Fergusson said the heaviest rain on Thursday morning was expected to fall on parts of east Devon and west and central Somerset.
"The main implication will be a lot of surface water and spray into the rush hour," he said.
"However, as we saw with the issues arising from heavy rain last Friday in Bridgwater and Bruton, localised flooding is possible, especially as the soil moisture level is already at capacity across many parts of Somerset."