Flood defences along Bridgwater river wall are tested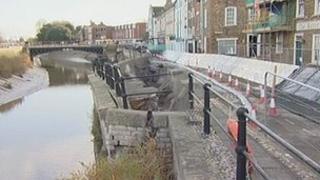 Tests have been carried out on temporary flood defences installed along a damaged river wall in Somerset.
A flood caused the wall at West Quay, Bridgwater, to partially collapse, forming a large hole.
Coastal engineer John Buttivant said: "We're very confident they will hold, it's a tried and tested system, it's been used extensively elsewhere."
The defences will stay in place until about 25 November when the monthly spring tide will push water levels up.
"The temporary flood defences are here to provide protection to the people and properties immediately behind the wall which currently won't receive that benefit because the wall has cracks in it," added Mr Buttivant.
The wall has collapsed by one metre from 8.4m to 7.4m, the height a large spring tide with a storm surge can reach.
It means the street-level is effectively unprotected from flooding as cracks in the wall will enable high-level tidal waters to flow onto the streets and into nearby properties.
Once the flood risk passes the defences will be removed and put back in place when needed.
No immediate plans have been made to knock down the wall and rebuild it - instead the aim is to let nature take its course.
Nearby houses were evacuated when the wall collapsed but seven residents have since moved back in, eight remain at the local YMCA while a further 10 are in temporary accommodation.