Wells to get £10,000 permanent Harry Patch memorial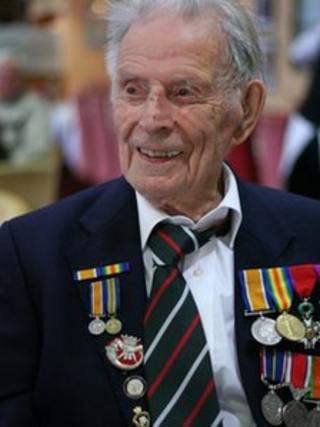 A £10,000 stone memorial is to be erected in Somerset in tribute to Harry Patch, the last British survivor of the World War I trenches.
Work will start on the memorial, near the city's Cathedral, before Christmas and is due to be completed by April.
Mr Patch was conscripted into the Duke of Cornwall's Light Infantry at the age of 18 and fought in the battle of Passchendaele in 1917.
He lived in Wells and died on 25 July 2009 aged 111.
Alan Williams from Shepton Mallet, a friend of Mr Patch's, launched the memorial bid earlier this year and has been in charge of the fundraising effort.
'Welsh slate'
He initially wanted to install a simple bench with a brass plaque but decided to make a more permanent memorial because of the "enthusiasm of the people of Wells, the neighbouring villages, and [its] visitors."
"We have collected altogether, including materials and labour, in excess of £9,000," said Mr Williams.
"The majority of that has been donated by Doulting Quarry and the Wells Cathedral stonemasons.
"The Doulting Stone is in itself a very large statement, because it's 170 million years old, from the Jurassic Age.
"It'll be recessed with a beautiful piece of Welsh slate, with some carefully chosen words - 217 letters in total."
Mr Williams first met Harry when he visited him at Fletcher House, the nursing home in which Harry lived.