Bridgwater residents urged to pay for rooms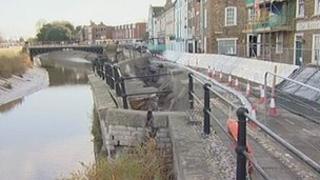 Residents forced to move out of their homes next to a collapsed flood wall in Bridgwater are being asked to pay for their temporary accommodation.
A section of wall along West Quay crumbled into the River Parrett after heavy rain three weeks ago.
Eight residents have been staying in a local YMCA, but the council is to request a charge of up to £90 per week to cover costs at the centre.
One resident Carole Sharp, 71, said: "There's no way I can afford £90."
She added: "That's why I paid my mortgage off so I could live independently on my state pension."
Ms Sharp said that if she is forced by the council to pay for her stay at the YMCA, she will move back into her house, despite the danger.
The council have not yet given residents any indication when they might be able to safely return to their homes.
Alison Griffin, corporate director at Sedgemoor District Council, said: "Here on in there will be a charge made for those staying at the YMCA.
"We are not at liberty to pay people's rental accommodation on an ongoing basis.
"However, if they are entitled to housing benefit as a result of their circumstances, then we will take them through that process."