Somerset charity inundated after call for sheep watchers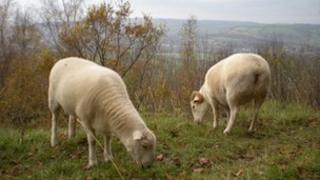 A Somerset charity has been inundated with offers after it called for volunteers to watch a flock of rare Wiltshire horn sheep over the winter.
The Avon Wildlife Trust is using a flock to graze and clear scrub at the Brown's Folly reserve near Bathford.
The charity advertised via the media, websites, posters and leaflets for volunteers to watch the flock to ensure the sheep were safe and happy.
The Trust's Joe Middleton said: "We're awed by the response from the public."
He added: "Everyone has been really supportive and interested in why we're doing it, as well as helping the long-term future of the site for generations."
'Grazing happily'
Brown's Folly, which lies on the remains of Bath stone quarries, provides a habitat for a range of flora and fauna and offers spectacular views across Bath.
Mr Middleton, reserves manager at the trust, said a flock was introduced five years ago, but within days someone had let the sheep out.
"We never successfully grazed before," he said. "It's been a long project to get the site secure."
Now a team of 15 volunteers is monitoring two newly-introduced sheep on a daily basis. The volunteers monitor their well-being, check fences are secure and that the water trough is working and help keep the site litter free.
Mr Middleton said: "We introduced two sheep, Daisy and Lou Lou to the site and they've taken to it very well. We needed people to check the sheep a couple of times a day, and now everyone is co-ordinating with each other."
Four more sheep will be added to the flock in December and they will graze until Easter. The flock's job is to keep invasive scrub such as brambles at bay.
"The sheep are grazing happily on all sorts of things," said Mr Middleton. "They've discovered that not just eating grass is interesting.
"They are doing an incredible job of getting to those hard to reach places on hillsides. It's too dangerous for humans."
While Mr Middleton is grateful for the many volunteer offers the trust has so far received, he said more people were needed.
"We're always after more sheep watchers, we can never have too many, he said. "And we want to thank the people who have already started giving us updates.
"The sheep are happy and alive and well and enjoying the views of their new winter home."