Robert Humphries jailed for cutting puppy's throat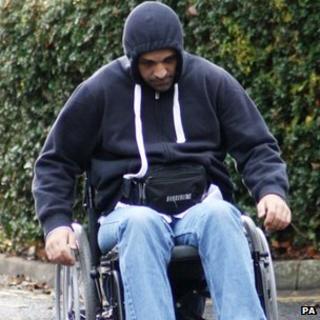 A man from Somerset who slit the throat of his puppy and left her to bleed to death has been jailed for five months.
Robert Humphries, 40, from Taunton, did not want to pay the £70 bill to have the family pet put down by vets.
Magistrates were told that Humphries, a former abattoir butcher, slit the six-month-old female lurcher's throat.
Humphries said he also stabbed the dog, called Shadow, repeatedly between the ribs. A vet estimated it would have taken up to 30 minutes for her to die.
When the RSPCA arrived at his home in Roman Road they found Shadow with her legs tied together in a plastic bag dumped in a wheelie bin.
Humphries appeared before Taunton Deane Magistrates' Court in a wheelchair having fractured both his ankles in September.
Neil Scott, prosecuting for the RSPCA, told magistrates that Humphries had gone to a vet on the morning of June 28 wanting Shadow rehomed or put down, claiming she had attacked his 19-month-old daughter.
'Crying and yelping'
Vets told him that it would cost £70 to have to the dog put down and another £30 for cremation.
Humphries said he did not have the money and, when he was then told it could be done free of charge, said he would come back with his pet.
However, Humphries told RSPCA officers that when he tried to walk the dog to the vets Shadow slipped her collar and attacked him and, fearing further attacks, he decided to kill the animal.
Mr Scott said there was no evidence of any injuries to show that Shadow had attacked either Humphries or his daughter.
"Mr Humphries asked his wife to pass him a kitchen knife, grabbed Shadow by the collar and started to cut Shadow's neck," Mr Scott said.
"The dog was crying and yelping and trying to get away. He asked her to pass him another knife, which she did.
"He then stabbed the dog in the chest with the silver-headed knife and following that stabbing the dog died."
'Extreme pain'
A post-mortem examination found the lurcher had a "large gaping wound" to the throat and stab wounds to the chest.
A vet said the dog would have been in "extreme pain".
Humphries was interviewed later that day by the RSPCA and he told them: "I couldn't actually slit the throat properly with the knife.
"She just cried and started to bleed out and then she crawled away and lay down on the floor.
"That's when I finished her off - I stuck a knife between her ribs."
Humphries admitted a single charge of causing unnecessary suffering to the dog in the attack on 28 June.
Ed Boyce, defending, said that since killing Shadow Humphries had separated from his wife and was involved in a custody battle for access to his daughter.
"He co-operated in the investigation of this matter and in my submission has expressed remorse for what occurred."