Nativity world record attempt at Midsomer Norton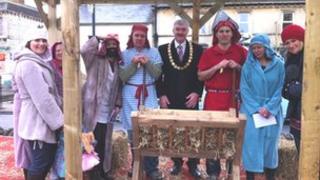 A Somerset church may have broken the Guinness World Record for the most people in a nativity scene, a provisional count has shown.
Organisers from Welton Baptist Church wanted people to come dressed as shepherds to the event in Midsomer Norton on Friday evening.
The current record, set in Sassi di Matera, Italy, stands at 567 people.
A count of 788 people was made during the event but this will need to be verified by Guinness World Records.
Once this is checked, the record will become official.
One of the organisers, Rachel Middleton, said: "We were thrilled. It was a lovely atmosphere and a special event. It was great to see so many people taking part."