Somerset residents campaign to save mobile libraries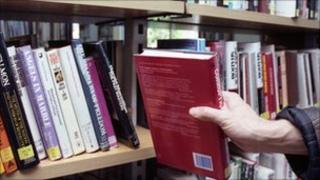 A campaign has been launched to try to save the mobile library service across north east Somerset from closure.
Bath and North East Somerset (Banes) Council is proposing to scrap all mobile services from April 2012 as part of its planned £12m spending cuts.
But local residents are "shocked" by plans to end the "valuable" service and are campaigning to save it.
Lib Dem councillor David Dixon said the "very expensive service" was costing taxpayers £115 per active user a year.
Mr Dixon, who is in charge of library services, said: "It's over £170,000 a year to run the mobile library service and we have 2,000 registered users.
"So as one of our most expensive services we need to say how do we make sure that people have books when they want access to books.
"And by putting books into shops, community centres and cafes - we could have a library service available anytime they want to go in and use it."
'Social contacts'
The local authority currently operates two mobile libraries, offering a fortnightly service across the region.
It claims the "ageing" mobile libraries need replacing at "significant cost" and has launched a consultation on whether the funds would be better spent to "maintain commitment to library branches".
But Mike Clarkson, who lives in Wellow near Bath, said the service is "valuable to some of the most disadvantaged and isolated residents in the community".
"The mobile library is not just a source of books for many of our elderly people, it's one of their only social contacts," he said.
"And as far as we're concerned it's a large number of people in Banes - more than 30 different villages - that the two mobile libraries serve here.
"So I don't think it's the right thing to start cutting the services that our elderly people depend on."