Funeral of Afghan blast soldier Lt David Boyce held in Bath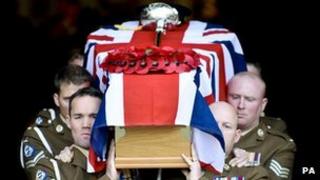 The funeral of a young army officer killed in Afghanistan has taken place at Bath Abbey.
Lt David Boyce, 25, of the 1st The Queen's Dragoons Guards was killed by an explosion in Helmand Province on 17 November.
The soldier was born in Welwyn Garden City, Hertfordshire, but grew up in Bath where his family has lived for 20 years.
About 400 people attended the hour long service.
Gary Best, former headmaster of Kingswood School in Bath, where Lt Boyce was head boy, said all those who were involved with him would "feel his loss hugely".
Prior to the funeral, Lt Gen Simon Mayall, Regimental Colonel of 1st The Queen's Dragoon Guards, paid tribute and said: "David Boyce was everything as a young man and a young officer that this country should be utterly proud of."