Parabadminton star Bobby Griffin to be torchbearer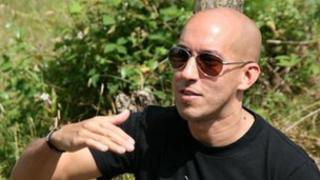 A sportsman who became one of the world's top parabadminton players after having a leg amputated is set to carry the Olympic torch through Somerset.
Bobby Griffin, 31, from Timsbury, near Bath, sustained multiple injuries when his motorcycle was hit by a car in Bath in June 2008.
After battling back to his fitness, he has competed in parabadminton tournaments around the world.
He said being nominated as a torchbearer was his "proudest" moment.
"I've been so happy since I found out," said Mr Griffin.
"It's going to be a huge honour and will be the proudest moment of my life - something I'll be able to tell the grandchildren about."
Brighton university graduate Mr Griffin, who works in marketing, broke his back in three places, sustained a double fracture of his left leg and also broke his left foot in the crash.
'Best decision'
Despite nine operations, he was still dependent on crutches and unable to put any weight on his left leg so decided to have it amputated below the knee.
"It was the biggest decision of my life and probably the best decision I have ever made," he said.
"Now I'm back to pretty much my full life with work and sports."
After having a prosthetic limb fitted, he resumed playing badminton and has since risen to fifth in the world parabadminton rankings.
He recently won two bronze medals at the parabadminton world championships in Guatemala. He also scooped two silver medals at June's European Open in Germany.
His fiancée, Lauren Foster, 30, a physiotherapist, said she was delighted Mr Griffin had been chosen.
"I think it's a great way to celebrate his achievement and really show people that, even if you go through something quite horrific, you can really come through the other side," she said.
Mr Griffin will be among thousands of people carrying the torch on the 8,000-mile route to the London 2012 Games.
Confirmation of the final torchbearers will be announced by the Games' organisers, Locog, in March.