Glastonbury Grace Cup returns to abbey after 125 years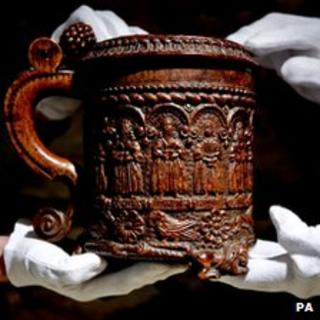 A 16th Century carved oak tankard has returned to its Somerset roots for the first time in 125 years.
The Glastonbury Grace Cup, which is believed to have once belonged to the abbots of Glastonbury, is featuring in an exhibition at the abbey's museum.
A biblical scene including the 12 apostles and the crucifixion decorates the Grace Cup, which received the name because of its religious associations.
The cup now belongs to the Arundell family in Wiltshire.
It was last exhibited in Glastonbury in 1886 to celebrate the inauguration of the Glastonbury Antiquarian Society.
Historian Dr Tim Hopkinson-Ball, who tracked the item down and arranged for its loan, said it was "always thrilling when we find forgotten treasures".
He added that it was "wonderfully fitting" that the cup was being displayed during celebrations for the Glastonbury Antiquarian Society's 125th anniversary.
'Great interest'
According to Arundell family tradition, the cup was given to a Roman Catholic ancestor when Glastonbury Abbey was dissolved in 1539 and has passed down the generations since then.
The cup is also known as a peg tankard because of a vertical row of pegs inside which would have allocated each drinker an equal measure of ale.
A full size replica of the cup, which was cast in silver-gilt during the reign of George IV (1762-1830), will also be on display alongside the original.
Mary Gryspeerdt, curator of the exhibition which runs until 31 January, said it was a "privilege" to be able to display the Grace Cup and reveal some of its history.
"Whatever its true origins, it is an object of great interest to the abbey," she said.
"And to have the Silver Gilt replica here simultaneously is a wonderful coup for the Abbey, Glastonbury, Somerset and the South West."