Occupy Bristol protest repairs 'to cost £100,000'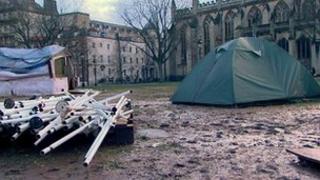 Damage caused by the Occupy Bristol protest will cost £100,000 to clear up, according to Bristol City Council.
Campaigners have been camped at College Green since October, protesting against financial inequality and politicians' handling of the economy.
Liberal Democrat councillor Gary Hopkins said the site was a "mess".
One protester said the council "knew full well" the clean-up would not cost £100,000 and said the demonstrators would do it themselves.
'It's rubbish'
Mr Hopkins said: "Because we'll have to rectify [the damage] quickly for it to be accessible for people to use, it won't be a matter of throwing a few grass seeds down.
"It'll be a matter of digging it out, and putting turf down to make it presentable."
But one of the campaigners, Tony Cripps, said the clean-up cost had been overstated.
"It's rubbish. They know full well it won't cost £100,000.
"We've made it clear that when we've finished here we'll fix it. We don't expect the taxpayer to foot the bill."
Meanwhile, Occupy protesters who set up camp in Bath are to repair damage left at the site, the council said.
Campaigners were camped in Queen Square from 30 October until 11 December.
They assured Bath and North East Somerset Council they would tidy up the site once the tents had gone.
The council said members of Occupy Bath will join the authority on Saturday to sow new grass seeds.
'Former glory'
Liberal Democrat councillor David Dixon said campaigners had set up a team "to go out there sowing seed".
"It is muddy and patchy in places, but it's looking in a much better condition than we thought it would be.
"And we're going to put a special mix down which will ensure that by the spring that grass will be back to its former glory."
A day-long Occupy protest was also taking place on Thursday in Glastonbury, where campaigners gathered outside St John's Church.