Bridgwater residents can return home 'at own risk'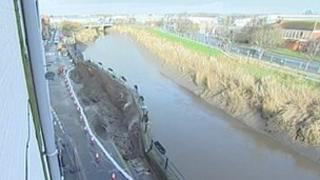 Bridgwater residents who were evacuated after the partial collapse of a river wall are being allowed to return home but only at their own risk.
The local council has said the wall is still unsafe and it cannot guarantee their safety if they choose to go back.
A section of wall alongside the River Parrett crumbled after heavy rain six weeks ago and 19 properties on West Quay were evacuated.
Some landlords and homeowners will be served with a Hazard Awareness Notice.
Sedgemoor District Council said it would continue to offer advice about the risks but it did not have legal grounds to stop people going back in, should they so wish.
The situation will be reviewed should circumstances change.
'Not budging'
Resident John Allen, who has spent the last six weeks in emergency YMCA accommodation, said returning home felt like "winning the pools".
"I don't feel at risk. I suppose I'm a bit numb to it but I needed to get back for Christmas - to be in my own home," he said.
"I'm not budging. If this place falls into the river I'll have my trunks on."
Bob Brown, from the council, said the authority would not recommend people go back but the situation had changed to a degree because the wall had stopped moving and the nearby buildings were not moving.
"We're giving [residents] a warning to say we don't recommend it but if you do, take suitable precautions to make sure if there is any trouble you can evacuate the buildings and make anybody who is visiting those buildings as safe as possible," he said.
Resident Dave Swann, 44, said that he was not planning on returning to his flat and was therefore "stuck in limbo".
"It's a complicated situation for me because we have been given the all clear to go back but if anything happens the council has said it is not liable," he said.
"I have been waiting for the last six weeks to be rehoused."
Liz Rhone, who works at AJ's Hair Gallery, said the wall collapse had caused a "massive dent" in business because of nearby access restrictions.
"A lot of people haven't realised that we have reopened. People who know that we're open don't know how to access us."
A meeting has been scheduled for next week when a decision on when the wall will be knocked down and rebuilt may be made.